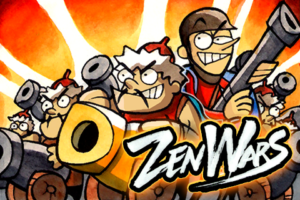 Zen Wars is an exciting real time multi player strategy game that requires the player to build castles, destroy enemies using cannons, and then repair damage done to ones own castle using predetermined wall pieces.
Zen Wars makes use of the open source cocos2D graphics framework which I have contributed to, as well as OpenFeint for challenges, achievements and leaderboards, as well as Apple's Game Center to allow internet multiplayer. Thanks to the amazing guys at panzerflakes.com Zen Wars has great art assets, making it a great looking iOS game that will keep players entertained.
Thanks to heavy optimization of the self made game engine, Zen Wars even works with the good old iPhone 2G, the first iOS device released, while still providing a great look.
Zen Wars was released in September 2011 and has received great reviews, including a new and noteworthy feature from Apple.
Project Page: Link